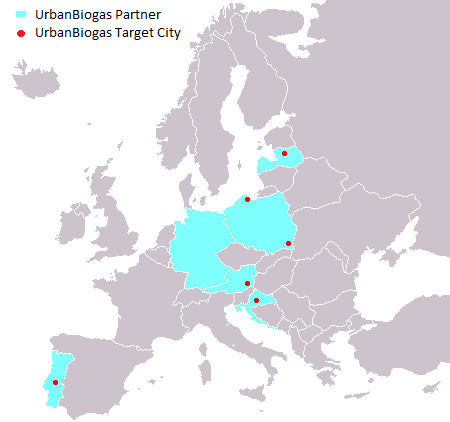 UrbanBiogas Partnership
The UrbanBiogas consortium consists of partner organisations from Germany, Austria, Croatia, Latvia, Poland, and Portugal.
UrbanBiogas "Target Cities"
Core focus of the project are 5 European cities in which Waste-to-Biomethane concepts shall be developed. The UrbanBiogas "Target Cities" are:
City of Zagreb (Croatia)
Municipality of Abrantes (Portugal)
City of Graz (Austria)
City of Gdynia and Rzeszów (Poland)
City of Valmiera (Latvia)
UrbanBiogas "Partner Cities"
Each Target City has close cooperation links with other European cities which are also interested in the Waste-to-Biomethane concept, the "UrbanBiogas Partner Cities". UrbanBiogas Partner Cities are: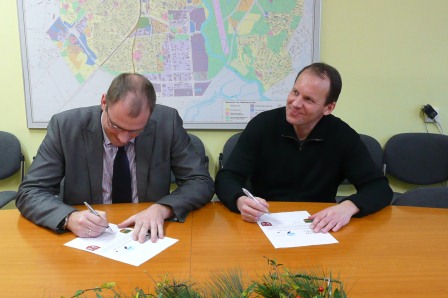 Tartu, Estonia
Gütersloh, Germany
Liepajas RAS, Latvia
Karlovac, Croatia
Rijeka, Croatia
Pinerolo, Italy
Norte Alentejano e Tejo, Portugal
Tomar, Portugal
Ourém, Portugal
Leiria, Portugal
Alcanena, Portugal
Avis, Portugal
Torres Novas, Portugal
Castelo Branco, Portugal
Region of Alta Estremadura, Portugal
Portalegre, Portugal
Médio Tejo, Portugal
Tagus, Portugal
Sardoal, Portugal
Maribor, Slovenia
Fürstenfeld in Styria, Austria
Zaragoza, Spain
A report on all partnerships is presented here.
UrbanBiogas activities in the framework of the Covenant of the Mayors are described here.