CONFERENCE ANNOUNCEMENT
Impact and achievements of IEE bioenergy projects
22 May 2014 | Crowne Plaza, rue Gineste 3 | 1210 Brussels
Bioenergy will play a crucial role in achieving the renewable energy targets by 2020. It is expected to account for more than 50% of the renewable energy consumption in Europe. However, the production and consumption of sustainable bioenergy in any of its forms (solid, gaseous and liquid), is still facing non-technological barriers that are impeding its large scale market uptake in most EU Member States.
The bioenergy projects which have been co-financed by the Intelligent Energy – Europe II (IEE) programme (2007-2013) aimed at supporting initiatives addressing such non-technological barriers by triggering and accompanying the concrete implementation of local supply chains of the most sustainable solid biomass, biogas & bio-methane and liquid biofuels resources. They have also supported the implementation of strategic actions aiming at contributing to the achievement of the 2020 targets and setting strategies in the bioenergy field beyond 2020.
The conference will present the impact achieved by the projects funded under the IEE programme as well as the final results of the 8 solid biomass and biogas projects coming to an end in 2014. Representatives from DG ENER and DG AGRI will provide an update on the latest developments in the energy and agricultural EU policies in relation to bioenergy.
Please visit the ManagEnergy website for further information, the programme and registration!
---
Conference of European Biogas Association
September 30 – October 2, Alkmaar region, The Netherlands
The biannual European Biogas Conference covers a broad range of topics related to biogas, from production to utilisation, with plenty of room for networking between representatives from research, industry and production. Foreseen are an exhibition and a poster session. Topics include European policy issues, biomethane, digestate use, sustainability of biogas and bioeconomy. With the event we strive to unite biogas experience and share latest information on policies, industry developments, innovation and legislation.
The conference will take place in Hotel Zuiderduin in Egmond aan Zee, approximately 35 minutes from Schiphol airport, on September 30 and October 1. On October 2 you can join either one of the two study tours or Biomass Gasification Europe in Alkmaar. Energy Valley and Netherlands Enterprise Agency will co-host the event.
http://www.biogasconference.eu/
---
European workshop on biomethane
Joint Project Final Conference
European workshop on biomethane – markets, value chains and applications
Brussels, Belgium, 11 March 2014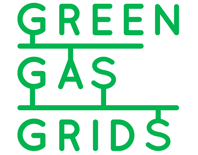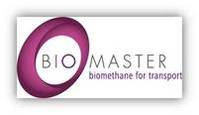 Please find the agenda and register under the following link: http://european-biogas.eu/events/biomethane-workshop/

Presentations:

Biogas and Biomethane in the Intelligent Energy Europe programme - Silvia Vivarelli and Emilio Font de Mora, European Commission; Executive Agency for Small and Medium-sized Enterprises (EASME)
Latest EU policy developments in the field of bioenergy - Andreas Pilzecker, DG ENER, European Commission
Biogas from waste in 5 European cities: the UrbanBiogas project - Dominik Rutz, WIP Renewable Energies, Germany
The GreenGasGrids Project: Boosting the European biomethane market - Axel Blume, dena, Germany
The Biomaster Project: biomethane for transport - Stefano Proietti, Institute of Studies for the Integration of Systems (ISIS), Italy
Biomethane Markets and Policies in Europe - Sabine Strauch, Fraunhofer UMSICHT, Germany
Biomethane Road Map and Certification - Attila Kovacs, EBA, Brussels
Standards of Biomethane - Mattias Svensson, SGC, Sweden
Sustainability of Biomethane - William Mezzullo, Renewable Energy Association, UK
Biomethane production and use in Skåne - Carina Sühnel, Biogas Syd, Sweden
Plans for a Biomethane Plant in Graz - Ernst Meissner, Energy Agency Graz, Austria
Securing Feedstock for biomethane production in Norfolk - James Thorpe, Norfolk County Council, United Kingdom
Waste collection challenges for biogas production in Zagreb - Bojan Ribić, Zagreb City Holding, Croatia
Biomethane developments in Trentino - Silvia Silvestri, Fundation Edmund Mach (FEM), Italy
Plans for a dry fermentation plant in Valmiera - Mārtiņš Niklass, ZAAO, Latvia
Overview on Biogas Upgrading Technologies - Michael Beil, Fraunhofer IWES, Germany
Overview of biomethane use in transport - Marco Tassan, FIAT Research Centre (CRF), Italy
Injection of Biomethane in the Natural Gas Grid - John Baldwin, Renewable Energy Association, UK
---
Semināra "Biogāzes un biometāna tehnoloģiju izmantošanas veicināšana atkritumu apsaimniekošanas sektorā Latvijā"
Riga, Latvia
12 December 2013
Prezentācijas
---
Business Agreements for Biomethane Projects - Workshop
Zagreb, Croatia
16 October 2013
Please find here the agenda.
---
UrbanBiogas Study Tour in Austria
Graz-Vienna, Austria
15-16 May 2013
Programme:
Wednesday, 15th May 2013
08.15 Pick up at hotel in Graz
08.30 Bus transfer from Graz to the biogas plant in Leoben
09.30 Plant visit in Leoben, LE Gas/Energie Steiermark Sewage plant with co-fermentation of organic urban waste Chemical absorption (amine gas treating)
11.30 Bus transfer from Leoben to Engerwitzdorf
13.30 Lunch break
14.30 Bus transfer to plant in Engerwitzdorf
15.00 Plant visit in Engerwitzdorf
17.00 Bus transfer from Engerwitzdorf to Wiener Neustadt (estimated time of arrival at the hotel: 19.30)

Thursday, 16th May 2013
08.00 Bus transfer to the biogas plant in Wiener Neustadt
08:30 Plant visit in Wiener Neustadt
10.30 Bus transfer from Wiener Neustadt to Vienna
11.30 Plant visit in Vienna
13.30 Bus transfer to Vienna airport (estimated time of arrival at the airport: 14.30)
16.00 Bus transfer from Vienna to Graz (estimated time of arrival at the hotel: 18.30)
A detailed programme and information to the registration can be downloaded here.
---
UrbanBiogas Training on Business models and agreements in the biogas sector
Graz, Austria
14 May 2013
Presentations:
Typical business models for biomethane projects
Dominik Rutz, WIP - Renewable Energies, Germany
Business models for biogas projects in Austria: agreements, contracts and lessons learned
Mr. Calabotta, MethaPower, Austria
Biomethane Calculator & Cooperative Biogas to Biomethane Developments
Sascha Flesch, Landesenergieverein Steiermark, Austria
Biomethane register Austria - Functionality and market players
Andreas Wolf, AGCS Gas Clearing and Settlement AG, Austria
Experiences with business models of biomethane projects in Germany
Klaus Huber, Independent biomethane trader, Munich, Germany
Criteria to assess biomethane investments
Uwe Hoffstede, Fraunhofer IWES, Germany
Standards for financing biogas projects in Central and Eastern Europe
Wieslaw Kowalczyk, UniCredit Leasing S.p.A., Vienna
---
UrbanBiogas Training on Biogas Upgrading and Biomethane Use
Riga, Latvia
25 October 2012
Presentations of the training course can be downloaded here.
| | |
| --- | --- |
| | |
| Training course Biomethane | Training course Biomethane |
---
UrbanBiogas Training on Business models and agreements in the biogas sector
Riga, Latvia
22 October 2012
Presentations of the training course can be downloaded here.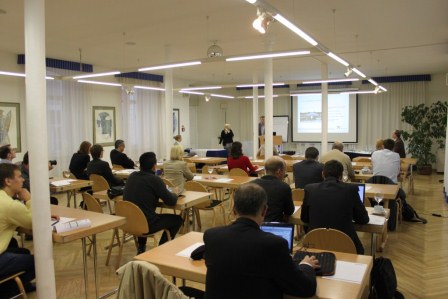 Training course on Business Agreements and Models
---
UrbanBiogas 3rd Progress Meeting and site visit
Valmiera/Riga, Latvia
20-21 October 2012
This was an internal project meeting.
| | |
| --- | --- |
| | |
| Meeting with the Deputy Mayor of Valmiera | Visit of the ZAAO landfill site in Valmiera |
---
UrbanBiogas Study Tour Sweden
Sweden
28-31 May 2012
In the framwework of the urbanBiogas project, the Fraunhofer IWES institute is organizing a study tour to one of the most interesting and technological advanced biogas and biomethane plants in Sweden.
Participation of the Study Tour is free of charge.
Here is the agenda of the study tour and the report on the study tour.

---
UrbanBiogas Biogas Training
Abrantes, Portugal
26 October 2011
A training course on biogas production from waste was organised for UrbanBiogas partners and representatives of Abrantes. Here is the agenda of the training course.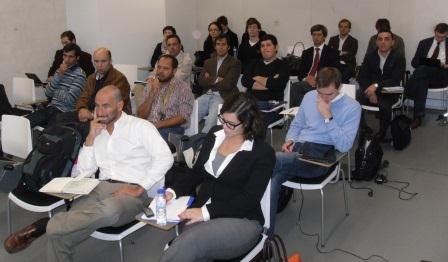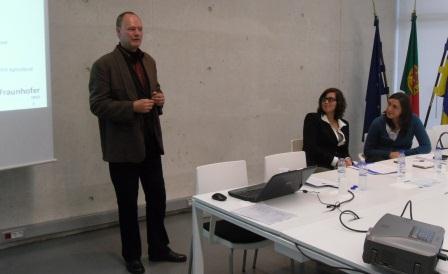 ---
UrbanBiogas Progress Meeting
Abrantes, Portugal
24-25 October 2011
This was an internal project meeting.
---
UrbanBiogas Biogas Training
Rzeszów, Poland
21 October 2011
A training course on biogas production from waste was organised for UrbanBiogas partners and representatives of city / municipalities.
---
UrbanBiogas Study Tour
Munich, Germany
18 May 2011
The first UrbanBiogas study tour to biogas plants treating the organic fraction of urban and municipal waste was organised on the occasion of the Kick-off-Meeting. The tour was organised by WIP Renewable Energies from Munich, Germany, and took place in the vicinity of Munich on 18 May 2011.
The first visit was to the biowaste and biogas plant of Ganser Entsorgung in Kirchstockach. A meeting with the technology provider BTA was arranged. The second visit was to the waste and composting company Wurzer Umwelt in Eitting. This visit at Wurzer Umwelt included a tour to its biogas plant, composting facilities and waste separation system of packaging material. 18 participants attended the study tour.
Summary UrbanBiogas study tour in Munich (PDF, 6.2 MB)
Technical description of the UrbanBiogas study tour in Munich (PDF, 5.6 MB)
---
UrbanBiogas Kick-off-Meeting
Munich, Germany
16-17 May 2011
In the Kick-off-meeting of the UrbanBiogas project the consortium fine-tuned the work programme of the upcoming 3 project years. The Kick-off-meeting was an internal meeting for the consortium only.